7 Little-Known Benefits of Bissap – With Recipe
With its vibrant ruby red color and lip-smackingly tart taste, bissap makes for a refreshingly one-of-a-kind beverage. But get this – the benefits of bissap make this West African hibiscus tea more than just a treat for your tastebuds.
Steeping the dried calyces (leaves) of the Roselle plant releases health-promoting compounds, making bissap an overachieving tea.
The many benefits of sipping bissap regularly include its high concentration of disease-fighting antioxidants and low-calorie count. Research is constantly uncovering new ways this flavorful tea can support cardiovascular health, digestion, liver function, weight loss, and more.
Discover firsthand how bissap's wide-ranging benefits can boost your well-being.
What Is Bissap?

The vibrant red tea known as Bissap is made from steeping dried calyces (leaves) from the Roselle hibiscus plant (Hibiscus sabdariffa). It's also goes by the English name roselle tea, red sorrel tea or Jamaica tea.
So where does Bissap come from? Its origins are believed to be in sub-Sahara Africa, remaining extremely popular throughout West Africa, in countries like Guinea, Mali, and Senegal. It is also enjoyed in some parts of the Carribean.
These outer leaves from the hibiscus give bissap its deep magenta color and impart its tangy, cranberry-like flavor. Locals and tourists alike enjoy cold bissap juice as a refreshing drink. Yet it can also be served hot like traditional tea. Naturally caffeine-free and low in calories, bissap makes a lighter, healthier substitute for sugary sodas or juices.
Benefits of Bissap
Bissap is chock-full of healthy antioxidants that provide a wide range of benefits. The anthocyanins and vitamin C help curb inflammation and protect cells from free radical damage. But bissap has even more perks:
Strengthens liver health. The antioxidants in bissap reduce fat accumulation in the liver while increasing beneficial enzyme levels. This antioxidant activity promotes overall improved liver function.
May support heart health. Studies indicate the hibiscus compounds in bissap tea help lower blood pressure and cholesterol levels, reducing risk of heart disease. The antioxidants also help dilate blood vessels.
Helps control blood sugar. The fiber and polyphenols in bissap help regulate blood sugar levels, preventing spikes and crashes that can lead to cravings. This action may encourage weight loss over time.
Has antimicrobial properties. Some research suggests compounds in bissap have antibacterial and antifungal properties that may help fight infections.
Improves skin and hair. The hydrating vitamins and minerals in bissap keep skin glowing and hair strong. The antioxidants also combat skin-aging free radicals.
Strengthens gums. The anti-inflammatory compounds help reduce gum inflammation and tenderness, leading to healthier gums.
Lower blood fat levels: The antioxidants and bioactive compounds in bissap tea may help lower LDL (bad) cholesterol and triglyceride levels in the bloodstream. This effect could promote better heart health by reducing plaque buildup in the arteries.
So there are many reasons to drink this ruby red elixir. It offers a caffeine-free way to boost your whole body, inside and out.
Is Bissap Acidic?
Is bissap acidic in taste? You betcha! The hibiscus flower can get pretty tart depending on how it's prepared.
If you're hoping for a sweeter bissap, you'll want to let those flowers infuse. Once your water's boiled, turn off the heat and let the flowers steep so they can work their magic.
But if you wanna make an extra zingy, lip-puckering bissap, keep the flowers simmering in that boiling water, kinda like a decoction.
So a shorter infuse makes milder bissap, while prolonged boiling amps up the acidity and tang. It's up to your taste buds! Do you like it sweet or sour? Either way, bissap will give your next tea break a little African flair.
Other Names For Bissap
From Senegal to Latin America, this lip-puckering red hibiscus tea is loved like an old friend. The totally diverse monikers are like a snapshot of bissap's far reach and addictive tang.
Take a look at the different terms for this uniting drink across the globe.
| Different Names of Bissap Juice | Where it's Called This |
| --- | --- |
| Bissap | Senegal |
| Dabileni | Mali, Ivory Coast, Burkina Faso |
| Tsobo or Zobo | Nigeria |
| Sobolo | Ghana |
| Wonjo | West Africa |
| Groseille | Guadeloupe |
| Sorrel | Jamaica, Barbados and Trinidad and Tobago |
| Red sorrel | Off the Caribbean |
| Jamaïque | US |
| Agua de la Jamaique ou agua de flor de la Jamaique | Latin America |
| Arhul ka phool | India |
| Karkadé ou carcadet | Egypt, Sudan, Italy and Russia |
| Chai Kujarat | Irak |
| Chai Torsh | Iran |
Variants on Bissap
Want to spice up your bissap? Try adding some mint or verbena leaves into the mix!
These fresh herbs can lend your bissap a new dimension of flavor. The cooling mint will provide a refreshing contrast to the tart hibiscus, while verbena will add a subtle lemony-floral note.
For best results, add a handful of torn mint or verbena leaves right to your bissap brew. Steep the herbs together with the hibiscus calyces to let their flavors infuse.
Experiment with different amounts to find your perfect ratio of herbs to hibiscus. Taste as you go until you get just the right balance.
So next time, kick your bissap up a notch with a fresh twist. Mint and verbena are an easy way to put a flavorful spin on this classic crimson tea.
Ingredients For Bissap Drink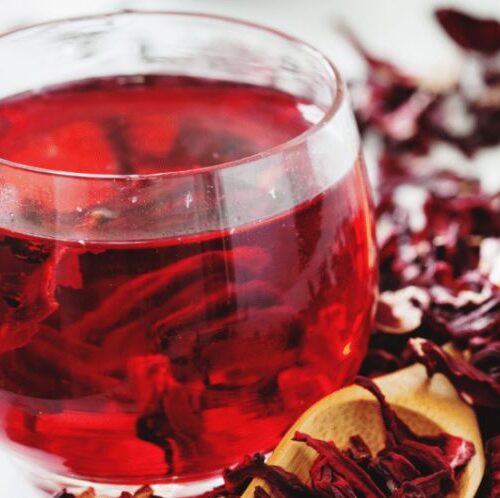 Bissap drink
Refreshing drink with hibiscus can be taken hot or cold. Bissap, also known by its French name "hibiscus", is a tart, cranberry-flavored tea that is bright ruby red in color.
Ingredients
2

tbsp

Dried Bissap (Hibiscus) Calyces – This is the main ingredient.

2

cup

Water

2

tbsp

White sugar or other natural sweetener like honey

2-3

Leaves

Fresh mint leaves

This is optional

1

tsp

Lemon juice

This is optional
Instructions
Let the bissap steep for at least 5 minutes, up to 20 for strongest flavor.

Strain the solids out through a fine mesh sieve or cheesecloth.

Stir in sweetener and any extras like mint or lemon to taste.

Chill bissap in the fridge and serve over ice. Also delicious hot!