Craveable Cauliflower And Broccoli Bake – The Healthy Way
Easy Cauliflower And Broccoli Bake Recipe
I'm delighted to share a cozy, craveable cauliflower and broccoli bake that delivers comfort, and nutrients without the excess calories.
With bountiful fiber, this bake is all about filling you up whilst it trims you down.
Additions like carrots, onion, and garlic offer tasty health perks too. Carrots detoxify, while onion and garlic are anti-inflammatory and add big flavor without the fat.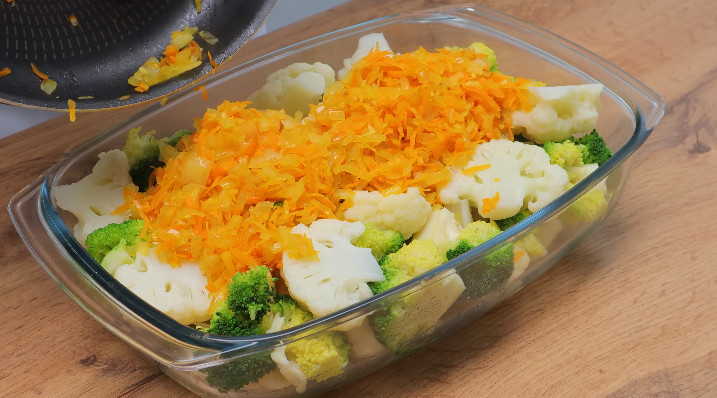 For a velvety texture, we've got Greek yogurt bringing protein and creaminess the healthy way. Finally, a dusting of cheese tops it off. Just a pinch adds that satisfying flavor pop. Moderation is key!
In short, this cozy bake strikes a delicious balance between comfort and healthy weight maintenance. Each whole food ingredient contributes its nutrition superpowers. Together they support your goals in a most deliciously comforting way.
So go ahead – dig into this symphony of veggies, protein, and savor.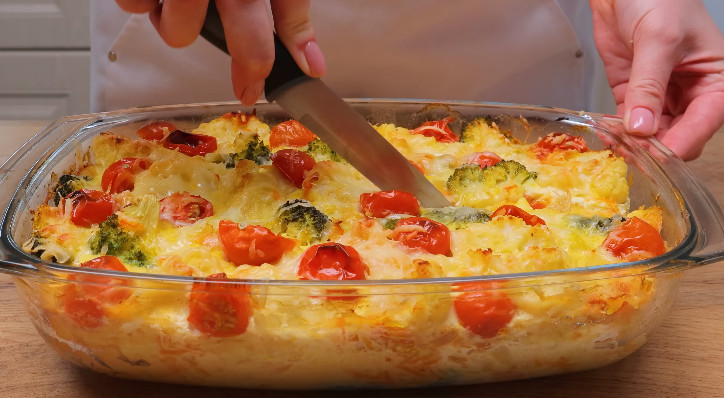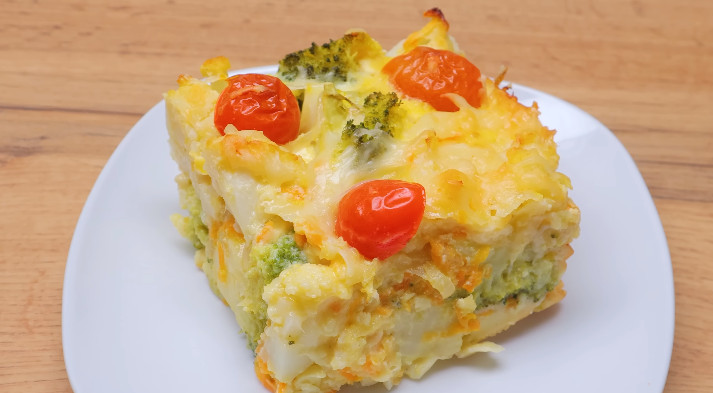 Craveable Cauliflower And Broccoli Bake
Bring comfort, taste and health to your tastebuds with this delectable cauliflower and broccoli bake, made cosy days and hungry nights, this will be a recipe you eep coming back to
Equipment
1 Skillet or frying pan 

1 Baking dish

1 Large pot for boiling

water
Ingredients
1

Cauliflower

1

Broccoli

4

cups

Water

1

tbsp

Salt

1

tbsp

Olive oil

1

Onion

2

Carrots

2

cloves

Of garlic

4

Eggs

Black pepper

100

grams

Of Greek yogurt

3

tablespoons

Of rice flour

1

teaspoon

Of baking powder

180

ml

of milk

Cherry tomatoes

A small piece of cheese
Instructions
Cut the cauliflower and broccoli into florets.

Bring a pot of water to a boil and add a pinch of salt. Cook the cauliflower florets for 5 minutes until slightly tender. Drain and set aside.

Fill a bowl with hot water and soak the broccoli florets for 10 minutes. Drain and set aside.

In a large skillet, heat some olive oil over medium heat.

Add the chopped onion and sauté for about 1 minute until translucent.

Grate the carrot and add it to the onions. Cook for another 2-3 minutes.

Add the minced garlic cloves and mix well. Cook for an additional 2-3 minutes.

In a separate bowl, whisk together the eggs, a pinch of salt, and some black pepper.

Add Greek yogurt, rice flour, baking powder, and milk to the egg mixture. Mix until well combined.

Spread the cooked cauliflower and broccoli in a baking dish. Pour the egg mixture over the vegetables.

Top with halved cherry tomatoes and sprinkle with grated cheese.

Bake at 200°C (400°F) for 30-40 minutes, or until the top is golden and the bake is set.